Looking at them, you can tell that God was very, very kind to this family when it came to passing out tickets for the genetic lottery. I'm talking about those Kardashian/Jenner girls. Few would deny that they all have some pretty good genes with regards to their physical appearance and attributes.
Part of me wants to hate them out of pure jealousy – but obviously, a "good Christian" isn't supposed to harbor hate for anyone. But I'm not going to lie – I hate the fact that they all inherited such great bone structure and beautiful faces and bodies. In my opinion — none of them seem to possess much common sense or gifts or talents that make them productive members of society. Their one claim to fame seems to be based solely on their outward appearance. 
Genetics and gene therapy … that's a tricky business to be sure. Half of those Kardashians or Jenner girls inherited small petite frames, while the other half are super tall. I have a friend whose family are all above average in the height department as well. The shortest member of their family is 5'10" and she's considered the "shorty" of the family. The rest are well over six feet – even the women in the family.
When I feel like punishing myself, it's very easy to fall into the "Oh woe is me" pity pool when I'm given to comparisons. She's prettier than me, thinner than me, has better skin or hair than me … yadda, yadda, yadda. What woman hasn't played the comparison game?
For years, I actually was a little miffed that my mother and father ended up together and made the decision to procreate. Their combined DNA didn't exactly create any supermodel specimens. I grew up convinced that the gene pool I swam in was somewhat murky and substandard.
From my father, I inherited short stumpy legs, thick thighs, fair skin, freckles and a severe overbite. I do however, appreciate the green eyes he and I shared, rather than my siblings brown eyes. My mother's gene pool gave me an hour-glass figure like the rest of the women in her family. While this was fine when I was younger B.C. (before children), the hour glass presented certain challenges with age. The women on that side of the family (myself included) carry a little too much sand in the bottom half of our hour-glass figures, if you know what I mean. When I was heavier, I was more bowling pin than  hour-glass.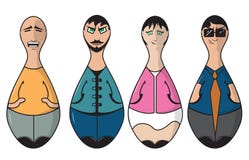 One of my least favor characteristics that has been passed down through several generations on my mother's side of the family, is the depression curse. Most of the women in my family have suffered terribly with severe depression. My mother's generation and the generation before her lived in denial rather than treating their "moodiness, constant blues and sad demeanor" as the disease depression actually is. My generation, my daughters and cousins are much more proactive, refusing to suffer in silence as did our ancestors.
There may actually come a time in the future when scientists can manipulate DNA and genetic markers and create a race of perfect humans free from defects or disease. Cloning is possible in this day and age, but that goes against everything the Bible has to say about creation.
Psalm 139 is one of my favorite chapters in the entire Bible. Whenever I find myself getting hung up on the disappointment I feel in regards to my physical appearance, I spend some time reading and re-reading this passage of Scripture – most specifically verses 13-16
You made all the delicate, inner parts of my body and knit me together in my mother's womb. Thank you for making me so wonderfully complex! Your workmanship is marvelous—how well I know it. You watched me as I was being formed in utter seclusion, as I was woven together in the dark of the womb. You saw me before I was born. Every day of my life was recorded in your book. Every moment was laid out before a single day had passed. 
In my fantasies I'm tall – at least 5'9" tall with an athletic, perfectly proportioned body; long naturally curly auburn hair, bright blue eyes and adorably dimpled cheeks. My skin is flawless, I am graceful, musically inclined and of course have a singing voice like an angel.
In reality, I'm as opposite of this description as is humanly possible!
We don't get to pick and choose our parents, our heritage, our ethnicity, our DNA or genetic makeup. It would be lovely, but it's also unrealistic. I can't change the fact that I am 5'3", a Caucasian Sicilian American or that my eyes are green. Why should I be depressed about the things that I so obviously cannot change?
I know that for me to become the exact individual that I am – the exact individual that God created me to be — my parents had to come together at a precise moment in time, blending their DNA and genes together to create me.
It is pointless to continually complain about the things we cannot change. Why do so many of us wish away our lives longing to be like someone else rather than appreciate who God created us to be? I have a tall, lanky friend who's always wanted to be tiny and petite. I have another friend who is big-boned and wears a size 11 shoe. All she's ever wanted is to have tiny little feet. And me … well, given the chance – most of the time I dream of changing pretty much everything about myself – inside and out.
There's a movie called "About Time" with Rachel McAdams and Domhnall Gleeson that was made in 2013. It's a story about a man who has the ability to travel back and forth in time. It's a good story and worth watching – but the one scene that has stuck with me all of these years is when Gleeson goes back in time to protect his sister from having a horrible accident. By changing that one thing though, he missed an important event with his wife and ends up rewriting their story. When he travels back to what he thought was the present time he'd just left, he discovers that his baby isn't the same baby he left. He's got a completely different child.  
The takeaway for me was that the baby that he and his wife originally conceived was created at one specific moment in time. Everything about their timing, their genes, their DNA combined at that precise moment to create that exact child. This man changed one thing and ended up changing everything. This scene reminded me that who I am — is who I am supposed to be. God needed my parents to come together when they did so that I would be born. 
My Mom and Dad – 1952
The above Scripture states that God saw me before I was born and every day of my life was laid out before I was even a thought to my parents. The bottom line is – if we don't like ourselves, we are essentially telling God He messed up. I don't want to be THAT person. I want to be the girl who says:
Search me, O God, and know my heart;
test me and know my anxious thoughts.
Point out anything in me that offends you,
and lead me along the path of everlasting life.
Psalm 139:23-24
I can never be 5'9" tall. The best I can do is to accept that the gene pool I swam in, is the exact pool I was meant to swim in. It's time to stop wasting any more time treading water in the pity pool. This is me God … lead me along the path of everlasting life.
QUOTE OF THE DAY: