It's a really big deal. In fact, it's such a big, giant biggie, it's in the BIG 10.
People lie all the time. Politicians lie (well, duh!). People lie about their age, their weight, their marital status, their income, their past, their education, their relationships. People lie on their income tax forms. Woman have been known to lie about their weight on their driver's licenses; men lie about their height. Both men and women lie on dating apps. Lies, lies, lies … so many lies!
There are little white lies, Big Little Lies, the lies that bind and the lies we tell to protect someone's feelings.
BUT there is one thing that never lies.
The PANTS don't lie! 
I learned this lesson first-hand a couple of days ago when I donned a pair of my favorite denim jeans. For some reason, they were a tad snug compared to the last time I wore them.
I did the usual rundown – did I accidentally put them in the dryer and they shrunk? Did I grab the wrong pair of jeans and these were a smaller size that hangs in the back of the the closet? Surely … I couldn't have gained that much weight since I weighed at WW just last week, could I? 
Excuses being what they are – I didn't want to blame myself or the extra BLTs (bites, licks and tastes) I'd ignored. Nor did I want to examine the emotional snacking I'd done this past weekend that was triggered by a tough family dilemma. But there it was – the evidence was screaming loud and clear. Something changed in my body to cause my jeans to suddenly feel tight around my mid-section.
I can lie to myself and fool others – BUT THE PANTS DON'T LIE! 
Since I reached my goal weight a year ago, I've relaxed somewhat when it comes to weighing myself at home. I used to obsess over the bathroom scale. I weighed myself several times a day, seven days a week. After every workout, after every meal, after every daily constitution or dog walk, etc. I stepped on the scale to track my progress or lack thereof, way more than I reasonably should have.
Realistically, constant weighing and letting the bathroom scale dictate my moods and attitudes was merely just another type of addiction. If my weight was down, I was joyful, excited and much more sociable. If my weight was UP? Lord help me – my disposition was down, down, down. A weight increase – ANY kind of increase, even a couple of ounces was cause for self-loathing and misery. I snapped at everyone and didn't interact with others, choosing to hide in the house until "the crisis" passed.
My addiction to constant weighing prompted me to name my scale and put a sign on it to remind me, I'm not supposed to make an idol out of anything, even an inanimate, seemingly harmless household gadget, like the bathroom scale.
My bathroom scale is named: PAMMI, which is an acronym for:
Personality
Altering
Mood
Monitoring
Instrument
To this day – PAMMI and I have a very frustrating, sometimes difficult relationship.
After reaching my goal weight, I remained faithful and weighed myself once a week. Over the past many months, that's dropped down to once every few weeks. I weigh myself a few days before my monthly WW weigh-in and the morning of my WW meeting.
Since however, my jeans were a little snug a few days ago, there's been a breakdown in the system somewhere.
In the past, I would have freaked out, gone on a hunger strike and fasted a few meals until I could breathe comfortably swathed in denim. NOW, I'm smart enough to realize that my pants being a little snug is not the end of the world.
Yes, BLTs probably have something to do with it, but when we're feeling "different" in our clothes, it bears a closer examination to pinpoint exactly wherein the problem lies. In my case, a number of factors could be affecting the snugness in my waistband.
I've recently changed up my workout program and have added some weight resistance exercises. I can tell my body is changing as it develops some additional muscle mass. Rather than doing a couple of hours of cardio these days, I've decreased my time on the treadmill and stationary bike, but added both upper and lower body weightlifting exercises. I feel stronger than ever and I can tell the weightlifting is changing my body composition.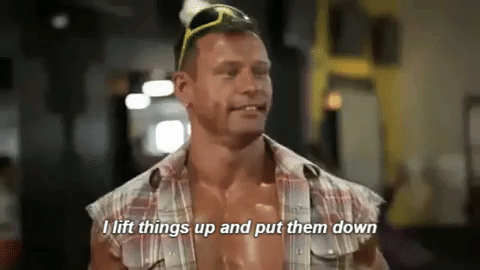 There are a couple of other reasons we may notice our clothes are suddenly tighter than usual – besides the obvious, that is.
How much sodium am I consuming in my daily diet? Sodium isn't just the amount of salt we sprinkle on our food.  Drinking a lot of beverages other than water, can contribute to bloating – especially if we are drinking diet soda. There is a lot of sodium in diet soda, but there is also sodium in many of the "diet foods" we eat which contain sodium-based preservatives. I used to have a horrible addiction to diet soda, but thankfully, God has helped me surrender that particular vice. Now, the only beverages I ever drink are lemon water and occasionally, unsweetened tea. Some "experts" suggest that we consume half our body weight in ounces of water daily. If I weigh 140, I should be drinking 70 ounces of water each day.
Constipation can be a culprit of intestinal bloating and may add additional weight on the scale as well. This can be counteracted by increasing our daily fiber intake.
If I haven't mentioned it recently … portion control! Portion control! Portion control! It's easy to become over-confident and think that I know exactly what 3-4 ounces of protein looks like, or 2 tablespoons of lite dressing. Eyeballing that tablespoon of peanut butter and not counting the extra nut butter hanging on the bottom of the spoon is only cheating myself. 
My snug pants are a wake-up call! I need to get back to work and stop guessing at my portion sizes. Get back to tracking my daily foods – including BLTs.  Or better yet – stop wasting calories on BLTs altogether!
For ME, I can throw out every excuse in the book, but the harsh truth is, I've been a little lax when it comes to recording all of my foods lately. Family difficulties are partly responsible for some extra calories in my diet – but life is filled with problems, chaos and drama. Letting my emotions rule me only sends me to the back of the obesity line, undoing all of the progress I've made in the last year.
Part of the reason I started writing my blog after such a long hiatus was so I could honestly share my struggles, my emotions and what's working and what's not working. The last few days has shown me that some of the things I am doing right now ARE NOT WORKING.
As I publicly admit my shortcomings, I'm publicly admitting I will never be able to continue this weight loss maintenance program without God's help.
So, Lord … here I am … asking for help. I don't want to be a liar! Help me get back on track and help me to be an encouragement to others who may be struggling in this area!
QUOTE OF THE DAY: